Each month Heather thinks up a theme for us to stitch to, or in my case, a theme to somehow shoe-horn my existing stitching into, no matter how tenuous the link!
This was the theme for December:
Detritus December
It's the end of the year...are there some projects you thought you'd have done by now? Let's take a walk down memory lane and start the new year with a clean plate.
Thankfully this is an easy one to stitch to theme!!
So far this month I have completed a Giveaway which I can't show yet, a Dragon Dreams Birthday card which I can, a Dragonlet a Drumming which I'm saving for WIPocalypse, Gandalf for the Hobbit Challenge and the final part of The Little Stitcher Advent. Not bad for a fortnight! I also stitched the words Happy Birthday on some aida but I am not counting that as a Finish!
Pictures:
Dragon Dreams freebie available on their FB page only.
This was stitched on a piece of 28 count evenweave from a Crafty Kitten grab bag.
For those of you who wondered, the runes spell out Gandalf's speech while facing the Balrog on the bridge in the Mines of Moria - "You cannot pass. I am a servant of the Secret Fire, Wielder of the Flame of Anor. The Dark Fire will not avail you Flame of Udun. Go back to the shadow. L.O.T.R."
I stitched this over 1 on 32 count Vintage Grain linen. I have enough left to stitch two of the Winter Wood ornies I have and also this lovely design: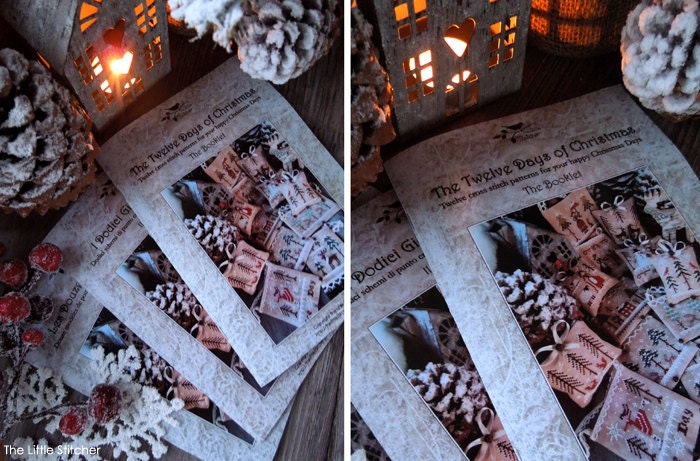 The plan is to stitch one a month starting in January 2014. Anyone care to join us?
You can buy the charts either as PDFs or as a paper booklet from The Little Stitcher's Etsy shop. Click picture for link.
Finally, the Advent Calendar Blog Hop is ticking away nicely, don't forget to pop in every day and leave a comment on the blogs you visit. I'm tending to update it in the evening when I get home as I'm working alot and hubby is monopolising the computer muttering about "end of year accounts".